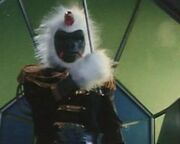 Leader Jericho
(リーダージェリチョ
Rīdā Jericho
?
) was the second leader introduced in Dinosaur Sentai Koseidon to lead the
Alien Godomesu
to battle and replacing
Commisoner Zazie
.
Subtitle: None
Height: 6ft
Weight: 90kg
Origin: Planet Godomesu
Dinosaur Sentai Koseidon:
Edit
TBA
The head of the suit comes from an earlier Tsuburaya production, Time of Apes.
Powers and Abilities
Edit
TBA
Ad blocker interference detected!
Wikia is a free-to-use site that makes money from advertising. We have a modified experience for viewers using ad blockers

Wikia is not accessible if you've made further modifications. Remove the custom ad blocker rule(s) and the page will load as expected.