Legend and Glory
The Final Chapters, Episode 1

Air date
07/07/1999
Written by
TBA
Screenplay by
Junki Takegami
Shinichi Kamisawa
Directed by
Shinichi Kamisawa
Special skill director
Shinichi Kamisawa
Viewer Ratings
None
Episode Guide
previous
Betrayal of the Sun
next
The Large Flying Iron Lump
Glory and Legend (栄光と伝説 Eikō to densetsu?) is one of the The Final Chapter episodes of Heisei Ultraseven.
Plot
TBA
Casts
TBA
Ultras
Aliens
DVD Release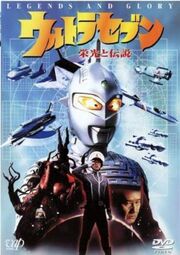 Ad blocker interference detected!
Wikia is a free-to-use site that makes money from advertising. We have a modified experience for viewers using ad blockers

Wikia is not accessible if you've made further modifications. Remove the custom ad blocker rule(s) and the page will load as expected.