Longa

Home world:
Earth
First appearance:
Ultra Stategy, The Special Corp Mobilized Episode 5: "Chase the dragon legend".
Latest appearance:
None
Height:
40 m
Weight:
42,000 t
Category:
{{{Category}}}
Affiliation:
Mido
Roar(s):
{{{Roar(s)}}}
Longa 
(ロンガ, Ronga) is a stegosaurus kaiju that appeared in the game, "
Ultra Strategy, Mobilization of the Science Patrol!
".
Subtitle: Rock Fear Beast (岩恐獣, Iwa Kyōjū)
History
Similarly to Mido, Longa is a vengeful reincarnation of a person, this time a man who drowned himself in Lake Ryujin after being heart-broken. There, it remained dormant until continuous movements in tectonic plates awoke it. It can swim, shoot a venomous substance and has a protected back in the exact shape of Mido, so that the two can connect to form Milonga. 
Data
Stats
Height: 40 m
Weight: 42,000 t
Origin: Earth
Powers and Weapons
Combine: Longa can combine with the dragon monster, Mido.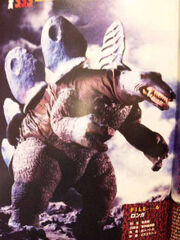 Milonga
Milonga (ミロンガ, Mironga) was a fusion between Longa and Mido. Subitle: Dragon God (合神竜, Gō Shin Ryū)
Stats
Height: TBA
Weight: TBA
Origin: TBA
Powers and Abilities
TBA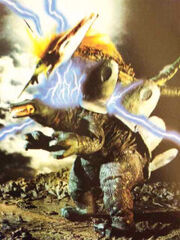 Trivia
Longa's design is based off a stegosaurus.
When Longa and Mido combine, they resemble the monster Gabora
Ad blocker interference detected!
Wikia is a free-to-use site that makes money from advertising. We have a modified experience for viewers using ad blockers

Wikia is not accessible if you've made further modifications. Remove the custom ad blocker rule(s) and the page will load as expected.