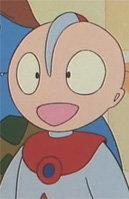 Maa is the protagonist in the series, Ultraman Kids.
Profile
Origin: Unknown, currently on Kid78
History
Ultraman Kids no Kotowaza Monogatari:
School life is anything but dull for Maa, Sebu, Taa and the rest of a class full of child superheroes and monsters. Between playing soccer and other lively activities, the kids learn valuable lessons along the way such as the best way to make sure one's homework gets done.
Ultraman Kids: Haha wo Tazunete 3000-man Kounen
When Maa was just a baby, his spaceship crash-landed in front of Grosser-sensei, and the kind monster decided to raise the child as his own. Now older and attending his adopted parent's school alongside friends such Sebu and rivals such as Bal, Maa can't help but think of his real parents and where they might be in the galaxy. Together with his loved ones, Maa sets forth on an adventure to discover the truth about his mother and father.
Trivia
Ad blocker interference detected!
Wikia is a free-to-use site that makes money from advertising. We have a modified experience for viewers using ad blockers

Wikia is not accessible if you've made further modifications. Remove the custom ad blocker rule(s) and the page will load as expected.