"MEBIUS!"

―Mirai's transformation call
The Mebius Brace (メビウスブレス Mebiusu Buresu?), alternatively known as the Mebium Brace (メビュームブレス Mebiūmu Buresu?), is Mirai Hibino's transformation item which allows him to transform into his true form, Ultraman Mebius.
History
Ultraman Mebius
Before Mebius went to Earth, Father of Ultra gave him an item called the "Mebius Brace". This is used by him to fight in both human and Ultra form and to transform into his true form, Ultraman Mebius.
When Mebius combined with the Ultra Brothers, he became more powerful as he took on Infinity Mode. His Mebius Brace also became more powerful as it turned into a silver version of itself.
Powers/Abilities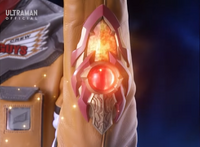 Transformation: Using the Mebius Brace, Mirai can transform into Ultraman Mebius at will.
Mebium Shoot: Mebius' signature move via the power of the Mebium Brace.
Mebium Blade: A blade from the Mebius Brace.
Mebium Slash: A medium energy bullet.
Mebium Pinger: A ring of light from the brace, can erase illusions.
Form Change: Mebius can change into different forms with his Mebium Brace.

Form Change Via Knight Brace: By summoning the Knight Brace along with the Mebius Brace, Mebius can take on his Brave Form.

Mebium Knight Blade: Mebius in his Brave Form has an enchanced version of the Mebium Blade with it bearing the Knight Blade characteristics.
Powers of Mebium Knight Blade: All techniques required by the Mebium Knight Blade requires the use of both the Mebius Brace and Knight Brace.

Combine: Besides Form Change with Mebius himself and the Knight Brace to change, the Mebium Brace and Knight Brace can combine together to allow Mebius to become Mebium Phoenix Brave.

Mebium Knight Shoot: By charging the Knight and Mebius Brace, Mebius can fire a enchanced version of Mebium Shot and having power of Knight Shot. This is '+' style.

Boosted Mebium Knight Shoot: By placing in 'L' style, the Mebium Knight Shoot is more powerful.

Mebium Phoenix: A very powerful version of the Mebium Dynamite, by charging the energies with the Mebius Brace and Knight Brace.
Mebium Twin Sword: Mebius Phoenix can create twin swords with the Mebius and Knight Brace.

Silver Mebium Brace: When merged with the Ultra Brothers, the Mebium brace will transform into a silver version of itself.
Trivia
The Mebius Brace was originally intended to serve as Mebius' Color Timer upon transformation.
The gem on the Brace is called the Killer Crystal and the spinning ball is called the Crystal Circle.
The design theme of the Mebius Brace is fire.
Ad blocker interference detected!
Wikia is a free-to-use site that makes money from advertising. We have a modified experience for viewers using ad blockers

Wikia is not accessible if you've made further modifications. Remove the custom ad blocker rule(s) and the page will load as expected.