Megasaura

Home world:
Planet Dark/Babilar
First appearance:
The☆Ultraman episode 32
Latest appearance:
None
Height:
120 meters
Weight:
105,000 tons
Category:
Robot
Affiliation:
Babilar (Creator)
Roar(s):
TBA
Megazaura (メガザウラ, Megazaura, Megazaura?) was a robot that appeared in The☆Ultraman.
Subtitle: Robo Monster (ロボ怪獣, Robo Kaijū, Robo Monster?)
Height: 120 m
Weight: 105,000 t
Origin: Planet Dark/Babilar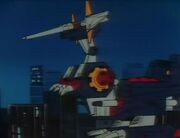 The☆Ultraman
Edit
Pending
Powers and Weapons
Edit
Flight: Megasaura can fly at high speeds.
Triple Laser Cannon: Megasaura has a rotatable triple-barreled laser cannon for a head. These lasers are strong enough to nullify attacks as strong as the Planium Beam.
Grapple Claws: Megasaura is armed with a pair of grapple claws.
Ad blocker interference detected!
Wikia is a free-to-use site that makes money from advertising. We have a modified experience for viewers using ad blockers

Wikia is not accessible if you've made further modifications. Remove the custom ad blocker rule(s) and the page will load as expected.