Mido

Home world:
Earth
First appearance:
Ultra Stategy, The Special Corp Mobilized Episode 5: "Chase the dragon legend".
Latest appearance:
None
Height:
100 m
Weight:
30,000 t
Category:
{{{Category}}}
Affiliation:
Longa
Roar(s):
{{{Roar(s)}}}
Mido 
(ミド, Mido) is a dragon kaiju that appeared in the game, Ultra Stategy, The Special Corp Mobilized.
Subtitle: Goddess Dragon (女神竜, Megami Ryū)
History
Mido is a reincarnation of a woman who was brutally ripped apart by her once lover and now seeks vengeance. She can fly, swim, generate an 200,000 volt electrical charge from her body that can be released through her tail and secrete poison from her spines.
Data
Stats
Height: 100 m
Weight: 30,000 t
Origin: Earth
Powers and Weapons
Combine: Mido can combine with the rock monster, Longa.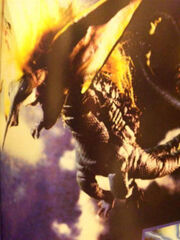 Milonga
Milonga (ミロンガ, Mironga) was a fusion between Longa and Mido. Subitle: Dragon God (合神竜, Gō Shin Ryū)
Stats
Height: TBA
Weight: TBA
Origin: TBA
Powers and Abilities
TBA