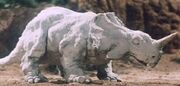 The Monoclonius was a one horned relative of the Triceratops that appeared in Dinosaur Expedition Born Free as a target for poachers.
Stats
Length: N/A
Weight: N/A
Origin: Earth.
History
When the Born Free where attempting to save the Trachodon, out from the ground came the angered Monoclonius! The rhino like saurian was so agressive that the Born Free crew, sadly, had to end it's life by freezing the reptile.
Trivia
The Monoclonius is the only dinosaur that the Born Free had to kill in Prehistoric Times, as it was far to aggressive.
Unlike normal specimens of it's species, the one depicted in the show can burrow.
It's stop motion puppet would later be used during the Great Dinosaur War Izenborg.
Its real name is actually Centrosaurus.
Ad blocker interference detected!
Wikia is a free-to-use site that makes money from advertising. We have a modified experience for viewers using ad blockers

Wikia is not accessible if you've made further modifications. Remove the custom ad blocker rule(s) and the page will load as expected.