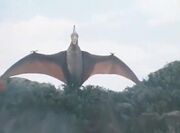 The Monster Pteranodon (モンスタープテラノドン Monsutā Puteranodon?) was the last pterasaur soldier of Ururu's army, and was sent by Gottes to help Bororo fight Izenborg and the D-Force in the Great Dinosaur War Izenborg.
Stats
Height: N/A
Weight: N/A
Origin: Underground Earth
History
Pending
Trivia
The Pteranodon was never given an offical name.
It is the 'largest' of the pteranodon props in the series.
Powers and Abilities
Flames: From his beak, the pterandon can spit a deadly flame.
Animal Mind Control: Like other foot soldiers of Ururu, the pteranodon can take over the mind of other animals.
Flight: Like all Pterandon's it can fly.
Ad blocker interference detected!
Wikia is a free-to-use site that makes money from advertising. We have a modified experience for viewers using ad blockers

Wikia is not accessible if you've made further modifications. Remove the custom ad blocker rule(s) and the page will load as expected.