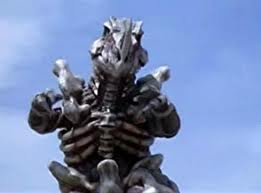 She appeared in episode 11.
Subtitle(Ancient Monster)
Powers/Abiliries
Edit
Sharp Horn: Mudon is able to penetrate her opponents easily and cause them to bleed by stabbing them with her horn.
Burrowing: Mudon can burrow at moderate speeds.
Strange tremors were occuring at a drilling area, but it wasn't because of the drills...A monster long thought extinct
was awakening! Team EYES was called in immediately to assess the threat. Musashi went into a caved area during the night and after surveying it, he found himself face-to-face with a gigantic skeletal beast! But oddly enough, the dinosaur didn't charge at him, it just lay there quietly. That is when the team was ordered in to investigate the seemingly peaceful titan. First, they tried pulling it out with a rope tied to a car but the plan backfired and the car sped off! They then tried luring it out with a strangley constructed robot, but the controls went haywire and it started poking Mudon with it's fuzzy stick and eventually the stick went right up the saurian's nose! Although the stick came out, that didn't stop Mudon from sneezing! The rush of air sent the robot and the team out of the cave in a flurry of mucus and dirt! In a last ditch attempt to get her to move, Musashi began playing the same flute he used to calm Lidorias which seemed to work, up until Mudon dozed off and caused a cave in! Luckily the team got out and finally decided to research what they were up against. They discovered that Mudon was infact a descendant of a species of dinosaur called Muranocraphidon and that she was lying in her ancestral birthplace.
Mudon greatly resembles Seabozu from the original Ultraman.
Her encounter with the humans was rather one of the more comical moments in the series.
Mudon is a fictional kaiju from the tokusatsu series, Ultraman Cosmos.