Nightmare!? Duel of Man and Seven? is the 5th episode of Ultra Super Fight, a series inspired by Ultra Fight which aired on Japanese VHS in the early 1990s.
Synopsis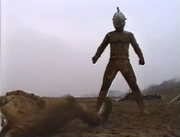 The episode begins in a rain-soaked field somewhere in Japan. Ace falls to the floor as Delusion Ultraseven beats him down by stepping on his left arm, then his stomach. Ultraman then arrives and questions Seven on what he thought he was doing beating Ace up, and Delusion Ultraseven responds that if he defeats all the Ultras, he will become super powerful and able to take over the world. Ultraman states that he can't let that happen, and the two begin to fight, throwing each other to the floor and slamming into convieniently-placed metal pipes that lie on the floor.
The Ultras get considerably more and more dirty as the wet soil covers them, and eventually Delusion Seven manages to get a hold of one long Rebar Rod from the ground, and uses it to try and kill Ultraman by attempting to stab him with it, as well as to try and break his colour timer. Ultraman, now beaten down and losing his power, manages to sum up the energy to avoid Delusion Seven's death blows by reaching for another Rebar rod, and manages to get to his feet. Slipping over the muddy ground, he grabs another, shorter Rebar Rod to make a pair, and the fight begins again! Using the Rods in a similar fashion to a pair of Sais, Ultraman manages to force Delusion Seven to let go of his rods, and he falls to the floor, slipping as he tried to get up.
Now both covered in the mud, Ultraman throws down his Rebar Rods while Seven gets up, and Ultraman, his energy renewed, prepares for hand-to-hand combat!
Exchanging blows, it is clear that Ultraman has the upper hand as he throws Delusion Seven around and strikes him on his spine and stomach, before throwing him to the floor yet again. Delusion Ultraseven tries one last move by charging at Ultraman, but Ultraman dodges it and delivers a punch to his chest. The evil Ultra, now defeated, falls to the floor, seemingly dead.
Characters
Ultras
Kaiju/Seijin
Trivia
Although it is clear that at one point in the fight Seven clearly has drained Ultraman's energy, Ultraman's Color Timer never blinks during the fight.