Oil Drinker (オイルドリンカー, Oiru Dorinkā, Oil Drinker?) or Oilmons was the first monster (also the last of Yapool's Choju) to appear in the TV series, Ultraman Taro.
Subtitle: Oil Super Beast (オイル超獣 Oiru Chōjū, Oil Super Beast?)
Height: 60 m
Weight: 29,000 t
Origin: Tokyo Bay (Near a Harbor)
Ultraman Taro
Edit
Oil Drinker was the last of Yapool's Choju after he created Jumbo King. Oilmons was found attacking a Japanese oil refinery, consuming its oil. As ZAT arrived to attack it, a man named Kotaro Higashi tried to fight it too by hijacking one of the cranes nearby. Oilmons however was able to snap the crane, and disappeared into the ocean. 
Later that night, Oilmons returned to the same refinery and ZAT was already there to begin an attack. As ZAT and Oilmons were fighting, a massive plant lifted from the ground and took the form of the monster, Astromons, who joined the battle and fought the Choju. Oil Drinker was no match against the more powerful Astromons, and was ultimately killed when he was eaten by his massive flower gorge.
Powers and Weapons
Edit
Fire Stream: Oil Drinker can emit a deadly stream of flames from his mouth.
Adept Swimmer: Oil Drinker is able to swim with little trouble.
Oil Gorge: True to his name, Oil Drinker can cosume many gallons of oil without receiving any negative side effects.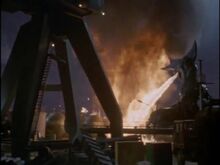 Ad blocker interference detected!
Wikia is a free-to-use site that makes money from advertising. We have a modified experience for viewers using ad blockers

Wikia is not accessible if you've made further modifications. Remove the custom ad blocker rule(s) and the page will load as expected.