Operation: Rescue the SX 3 Seconds Before the Explosion (操作:3秒爆発する前にレスキューザ·SX Sōsa: 3-Byō bakuhatsu suru mae ni resukyūza· SX) is the tenth episode in the series, Ultraman Neos.
Plot
Pending.
Cast
Captain Gonpachi Minato 

Hironobu Uematsu 

Takayoshi Hino 

Hayami Nana 

Ayumi Kitabayashi 

Secretary Yoko Fujiwara
Heroes
Monsters
DVD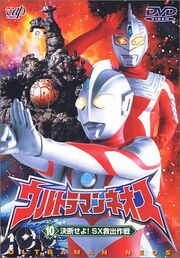 USA Release
The episode was premiered in the United States on TOKU in May 5, 2017.
Ad blocker interference detected!
Wikia is a free-to-use site that makes money from advertising. We have a modified experience for viewers using ad blockers

Wikia is not accessible if you've made further modifications. Remove the custom ad blocker rule(s) and the page will load as expected.