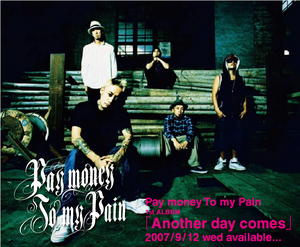 Pay Money to My Pain (stylized as Pay money To my Pain and abbreviated as P.T.P.) is a Japanese alternative rock/metal band. All of the band's lyrics are in English.
The band officially disbanded after their vocalist, K (real name Kei Goto (後藤慶) died on December 30, 2012 at age 31 due to acute heart failure at his home in Yokohama.
Songs
See Also
Ad blocker interference detected!
Wikia is a free-to-use site that makes money from advertising. We have a modified experience for viewers using ad blockers

Wikia is not accessible if you've made further modifications. Remove the custom ad blocker rule(s) and the page will load as expected.