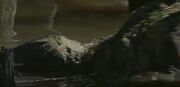 A mud covered turtle that swam in the film, Last Dinosaur.
Stats
Length: N/A
Weight: N/A
Origin: Antartica
History
A large sub-aquatic reptile that's sleep was distrubed when a photographer stepped on it's shell. Angerly, it swam off.
Trivia
While not the suit, it greatly resembles Ultra Q monster Gameron.
Unlike normal turtles and those found in the fossil record, this one possesses sharp teeth.
Ad blocker interference detected!
Wikia is a free-to-use site that makes money from advertising. We have a modified experience for viewers using ad blockers

Wikia is not accessible if you've made further modifications. Remove the custom ad blocker rule(s) and the page will load as expected.