Ptera
(プテラ
Putera
?
) is one of
Ururu's
flying foot soldiers in the series Dinosaur War Izenborg.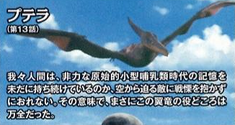 Height: N/A
Weight: N/A
Wingspan: N/A
Pending.
Powers and Abilities:
Edit
Flames: Like many of the other pteranodons in the Izenborg series, Ptera can fire a deadly stream of flames from his beak.
Ptera, just like every other Pteranodon in the Tsuburaya Dinosaur series, uses the same roar as Toho's very own Pteranodon, Rodan.
Ad blocker interference detected!
Wikia is a free-to-use site that makes money from advertising. We have a modified experience for viewers using ad blockers

Wikia is not accessible if you've made further modifications. Remove the custom ad blocker rule(s) and the page will load as expected.