Queen Monera
Comments

0
1,377pages on
this wiki
Queen Monera

Home world:
Planet Monera
First appearance:
{{{First appearance }}}
Latest appearance:
{{{ Latest appearances }}}
Height:
Unknown
Weight:
1,080,000 tons
Category:
Kaiju
Affiliation:
Alien Monera
Queen Monera (クイーンモネラ, Kuīn Monera, Queen Monera?) is the combined entity of the Alien Monera. She was created when the Monera's merged their bodies inside their special ship Monerashido (モネラシード, Monerashīdo, Monerashido?).
Subtitle: Colossal Plant Beast (超巨大植物獣, Chōkyodai Shokubutsu Kajū, Colossal Plant Beast?)
Monera Ship Subtitle: Dedicated Seeds Ship (専用种子船, Sen'yō Shushi Fune, Dedicated Seeds Ship?)
Stats & Traits
Edit
Statistics
Edit
Monerashido
Edit
Queen Monera
Edit
Length: 258 m
Weight: 1,080,000 tons
Powers/Weapons
Edit
Tentacles: Queen Monera has many tentacles used to ensnare enemies.
QW Electricity: Queen Monera can unleash this deadly form of electricity on victims trapped in her abdomen.
Psychic Explosions: Queen Monera can creates an huge explosions with her mind.
Queen Monera Buster: Queen Monera can fire a beam of energy from the two objects on her head that flies into the sky and then unleashes an devasting rain of powerful energy blast,each capable destroys an entire buildings blocks.
Tentacle Blast: Queen Monera can fire blasts of energy from her numerous tentacles capable destroying entire buildings in one hit.
Ultraman Tiga and Ultraman Dyna: Warriors of The Star of Light
Edit
Queen Monera was first seen as the Monera Ship, flying to the controlled Deathfacer (Polomythus )and "Moneliamorphisizing" it to become the demonic Deathfacer. Later, after Deathfacer was destroyed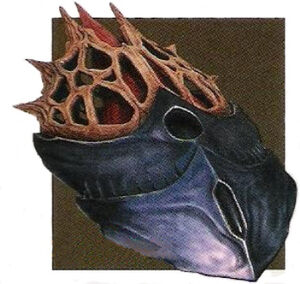 in area Q3, the Monera Ship reappeared. Inside the ship, the Monera's combined their bodies and minds and morphed it into the ship to become Queen Monera.
Ultraman Dyna
, tired after the battle with Deathfacer, flew upward for combat, but was caught by Queen Monera's tentacles and thrown into her abdomen.There, constant bolts of QW Electricity assaulted Dyna. Finally, after more than two minutes of struggling, Dyna's head went limp, and our hero died. However, a young boy with an
Ultraman Tiga
figure is able to get everyone to believe in the light, and everyone lends their 'light' to bring back Ultraman Tiga. Tiga miraculously appears bathed in light, at once freeing Dyna, before the two of them confronted Queen Monera. After blasting off several tentacles, the heroes were caught in the neck by more tentacles but was freed by Super GUTS. Our heroes then flew into the sky and unleashed the QW Bomber, destroying Queen Monera for good and making the Moneras extinct.
Toy Release Information
Edit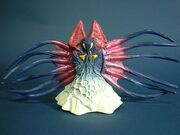 Queen Monera was released as a figure in a box set titled "The Warriors of The Star of Light" in conjunction with the movie. However, the figure was not made to scale and is very much undersized when compared to the Ultraman Tiga and Dyna 6 inch battle style figures that also came in the box set. The box set also came with a miniature Monera alien.
Queen Monera is completely immobile, unable to move from the spot she's formed in.