Ranho
(ランホ
Ranho
?
) is a Rhamphorhynchus that appeared in one episode of Dinosaur Great War Izenborg, appearing in episode 8.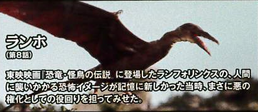 Stats
Powers
Flight: Ranho can fly through the air at decent speeds.
History
Dinosaur Great War Izenborg
Sent by Ururu to find the egg of Torara, Ranho carried the life giving orb to a secure spot, where he began to peck at the egg, forcing it to hatch. What happened to Ranho after this event is up for debate.
Trivia
Ranho's prop was used again in the show, but in a tribute to Tsuburaya, showing the prop flying around a suit actor, and having one of its wires snap.
Ad blocker interference detected!
Wikia is a free-to-use site that makes money from advertising. We have a modified experience for viewers using ad blockers

Wikia is not accessible if you've made further modifications. Remove the custom ad blocker rule(s) and the page will load as expected.