Reiblood (レイブラッド, Reiburaddo, Reiblood?) is the 12th episode of Ultra Galaxy Mega Monster Battle.
Plot
Mega Monster Battle File
Oki: Mega Monster Battle File. Today we're gonna talk about the legendary giant! Ultraman! Ultraman is a hero who needs to defeat his enemies within a short amount of time. He is the eternal hero who fought to protect the Earth and mankind!
Kumano: Oki, do you want to meet Ultraman?
Oki: No, I'm fine. I'm not really that...
Kumano: Come on. Next episode will be the climax. Let's go energetically!
Oki: Yeah.
Kumano: Cheer for us!
Casts
Suit actors
Aliens/Monsters
Reionyx Users
Ordinary Monsters
Reionyx Monsters
DVD Release
Ultra Galaxy Mega Monster Battle Volume 7 features episodes 12-13.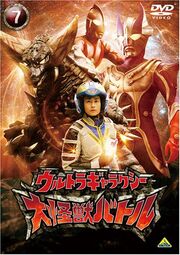 Ad blocker interference detected!
Wikia is a free-to-use site that makes money from advertising. We have a modified experience for viewers using ad blockers

Wikia is not accessible if you've made further modifications. Remove the custom ad blocker rule(s) and the page will load as expected.