Rekyum Man
(レキューム人
Rekyūmu Jin
?
) was an alien from an unknown planet that relied on the creative abilities of living beings, and went to Earth to try drain the human's supply for his own needs.
Subtitle: Radio-Wave Phantom (電波怪人 Denpa Kaijin?)
Stats
Height: 373 m
Weight: 450,000 t
Origin: Unknown
History
Ultra Q: Dark Fantasy
Rekyum Man came from a world where his people relied on the power of imagination, and have extinguished their supply. Rekyum Man manipulated a cartoonist named Sasayama into adding a strange new radio wave to the Tokyo Tower II and started broadcasting, sapping up the imaginative qualities of the humans. After the humans began their retaliation, Rekyum Man transformed into a giant form to try and fight back, but a carefully aimed high-frequency radio-wave destroys him, ending the threat.
Trivia
Rekyum Man is based on Kemur Man from the original Ultra Q episode #19 "Challenge From The Year 2020″.
Rekyum Man's name is very similar to the word "requiem", though the absolute connection is unlikely canon.
Ultraman Orb The Movie: Lend Me The Power of Bonds!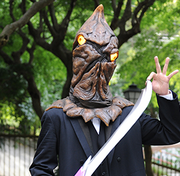 A Rekyum Man was seen, along with an Alien Serpent, guarding the captured Daichi Ozora. During a discussion between the two about ice cream, Juggler came into the room and swiftly defeated the two.

Ultraman Geed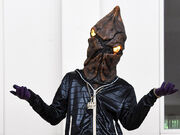 Rekyum Man makes a brief reappearance in episode 20 of Ultraman Geed. At the end of the episode he is seen showing Kei Fukuide footage of AIB recovering Dark Lugiel and Alien Empera's capsules.

Powers and Weapons
Imagination Consumption: Rekyum Man can consume human imaginations.
Size Change: Rekyum Man can alter his size into gigantic.
Ultraman Orb
Human Disguise: Although his head excluded, the Rekyum Man was shown capable of shifting the appearance of his body into that of a human.
Sword: Being a guard for the Dark Alien Army, Rekyum Man is armed with a sword.
Gallery