Samekujira (サメクジラ Samekujira? lit. "Shark Whale") is a shark kaiju in Ultraman Taro.
Subtitle: Sea Animal (海獣 Umiju?)
History
Ultraman Taro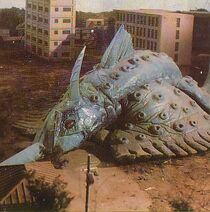 Samekijura was a creature sent to Earth by Alien Valky with the intention of 'capturing' the beast and then using this event to show off, with the whole plan being a mask for his true intentions to invade Planet Earth. A day after he attacked an oil tanker, Samekujira followed several ships to Honshu and rose out of the waters of Tokyo Bay. ZAT and Ultraman Taro soon came to the scene to stop the monster. During the battle, Alien Valky appeared and tried to stop Taro from fighting Samekujira, but the Ultra soon managed to chase off the Alien and destroyed Samekujira with his Storium Beam. Valky returned a short time later, furious that his catch had been killed by the Ultra.
Trivia
Ultraman X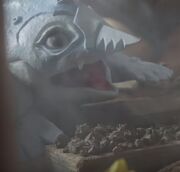 A baby Samekujira reappeared in Episode 9 of Ultraman X, "We are Nebula!" as Alien Valky Haruki's pet.
Named Jolly (ジョリー Jiorī?), it was Valky's pet back at his home planet and went to Earth after missing its master. However, its appearance attracted the Dark Star Cluster, who demanded the monster for their monster weapons until Valky challenged them to a rugby match. His team wins, saving Jolly from being sold.
Ultraman Geed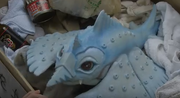 A baby Samkujira reappeared in episode 5 of
Ultraman Geed
where he was seen lying in a box and found by
Zena
and
Moa Aizaki
. Although how the Samekujira ended in the box is unknown, Zena mentioned that said monster is usually weaponized by certain criminals despite initially being harmless enough to be kept as pets.
Trivia
A similar prop that was used to portray Jolly in Ultraman X is used in this episode.
Data
Samekujira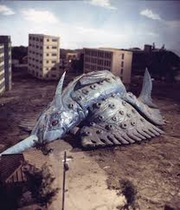 Stats
Length: 63 m
Weight: 26,000 t
Origin: Oceans of Planet Valky
Powers and Weapons
Adept Swimmer: As its race being originally a fish, Samekujira can swim at high speeds while underwater.
Air Adaptation: Despite being an aquatic animal, but it can adapt in to atmospheric environment.
Nose Blade: Samekujira is armed with a blade for his nose. While gliding it can execute an attack called the Needle Slash.
Glide: Samekujira can glide short distances while on land.
Armor:As revealed in Ultraman X, juvenile Samekujira possess strong armour plating. This plating is also present on adults of their kind.
Baby Samekujira
Stats
Height: 50 cm
Weight: 5 kg
Origin: Oceans of Planet Valky
Powers and Weapons
Air Adaptation: Despite being an aquatic animal, but it can adapt in to atmospheric environment.
Space Travel: Baby Samekujira can easily travel in space.
Armor: Even if crash-landed, baby Samekujira proves to be able to survive from the impact without showing any signs of injury.
Gallery
Ultraman Taro
Ultraman X
Ultraman Geed
Ad blocker interference detected!
Wikia is a free-to-use site that makes money from advertising. We have a modified experience for viewers using ad blockers

Wikia is not accessible if you've made further modifications. Remove the custom ad blocker rule(s) and the page will load as expected.