Scientific Defense Guard

Members:
TBA
Affiliations:
TBA
Designations:
To protect humanity from any alien threats and giant monsters
First appearance:
The☆Ultraman Episode 1
Latest appearance:
The☆Ultraman Episode 50
Scientific Defense Guard (科学警備隊Kagaku Keibitai?) is a branch of the Earth Defense Force in the U40 Timeline in The☆Ultraman.
History
Pending.
Members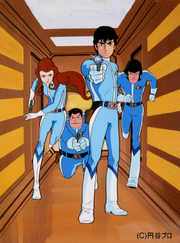 Tetsuo Akiyama/ Captain Adams (アキヤマ 徹男Akiyama Tetsuo?): The first captain of the Far East Zone. He is transferred to the America Zone in Episode 26.
Daisuke Gondo (ゴンドウ 大助Gondō Daisuke?): The second captain of the Far East Zone, who takes over Akiyama's duties from Episode 27 and onward.
Kei Marume/ Lieutenant Marconi (マルメ 敬Marume Kei?): A strongman and an expert marksman.
Hiroaki Tobe/ Lieutenant Glenn (トベ 博明Tobe Hiroaki?): A weapons developer.
Mutsumi Hoshikawa/ Lieutenant Anne Johnson (星川 ムツミHoshikawa Mutsumi?): A female member.
Choichiro Hikari/ Lieutenant Harris (ヒカリ 超一郎Hikari Chōichirō?): He encounters Joeneus on his way from a space station to the earth, and merges with Joeneus.
Pigu: An assistant robot that resembles the creature Pigmon
Monkey: A monkey like robot normally seen with Pig
Vehicles and Armaments
Bases
Trivia
The SDG is the first animated Attack Team.
They are also the first to use robots.