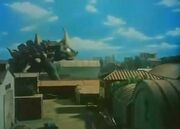 Shadow (シャドー Shadō?) is one of the last monsters created by Zobina and Gottes during the Great Dinosaur War Izenborg.
Height: N/A
Length: N/A
Weight: N/A
Origin: Earth
Shadow was the last monster created by Zobina before her death in the next episode. He caused major marages of himselfand existed only when the sun was out.
Powers and Abilities
Edit
Mirage: Using the sunlight, Shadow can make a copy of himself to fight along side him.
If the sun is somehow blocked out, Shadow can not summon a second fighter to aid him.

Ad blocker interference detected!
Wikia is a free-to-use site that makes money from advertising. We have a modified experience for viewers using ad blockers

Wikia is not accessible if you've made further modifications. Remove the custom ad blocker rule(s) and the page will load as expected.