Shingo Sakomizu
Comments

0
1,306pages on
this wiki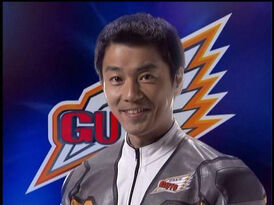 Shingo Sakomizu is a character who appeared as captain of GUYS during the Mebius Series. In the last episode, he is chosen by Zoffy as his temporary human host. He is a kind guy and not too serious. He is portrayed by Minoru Tanaka, who in real life, died on April 25th 2011.
Back during the time of the SSSP, Sakomizu was assigned to the Izanami, for test flights into FTL technology. During one of these flights he was attacked by a fleet of alien ships but saved by Zoffy. This incident made him realized how the Ultras were actually doing for humanity, that the human race was unaware of and his testimonies upon his return were the reason GUYS was formed and maintained despite a lack of supposed threats from aliens or monsters for twenty five years.
Due to the Rip-Van-Winkle effect, Sakomizu had only experienced a fraction of the time experience on Earth. The result of approaching the Speed-of-Light is that time stretches and the time outside the object moving at such velocities is faster than inside.
When Mirai first came to Earth and visited captain Ban, the distraught old man called Sakomizu who escorted Mirai, becoming the only one of the team who knew his secret until the Imperializer first attacked.