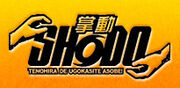 The
Shodo
(掌動) series is a toyline produced by Bandai, which consists of palm-sized 10cm figures with 15 points of articulation.
Lineup
VS Ultraman Series 1
Release Date: October 2016
Price: 540 Yen
Ultraman
Ultraseven
Zetton
King Joe
VS Ultraman Series 2
Ultraman Jack
Ultraman Ace
Ace Killer
Bemstar
VS Ultraman Series 3
Ultraman
Ultraseven
Zoffy
Ultraman Taro
Alien Temperor
VS Ultraman Series 4
Ultraman (A Type)
Ultraman Tiga (Multi Type)
Red King
Alien Baltan
VS Ultraman Series 5
Ultraman Leo
Astra
Ultraman Geed (Primitive)
Alien Magma
Bandai Candy Online Shop
Father of Ultra
Mother of Ultra
Brother's Mantle.
Trivia
The figure's extra parts can be stored onto the stand.
The toyline also created figures from the Kamen Rider & Dragon Ball Z series.
The inclusion of the Ultra Key with the Astra figure suggests it can also be used as Alien Babarue's Imitation Astra form.
Ad blocker interference detected!
Wikia is a free-to-use site that makes money from advertising. We have a modified experience for viewers using ad blockers

Wikia is not accessible if you've made further modifications. Remove the custom ad blocker rule(s) and the page will load as expected.