Stealgan (ステルガン Suterugan) was a pteranodon inspired virus that appeared in episode 4 of Denkou Choujin Gridman. Stealgan was adapted in Superhuman Samurai Syber-Squad as Troid while his upgraded form was adapted as Raedon.
Subtitle: Stealth Kaiju (透明怪獣 Toume Kaiju)
History
Gridman
Stealgan
Takeshi created Stealgan and had Kahn Digifer send it into Soichiro's boss' computerized automobile. While on their way for a game of golf, Stealgan took over the car's computer systems, sending Soichiro and the boss on a deadly ride. Naoto and Gridman uploaded themselves into the car to battle Stealgan. However, Stealgan had the power to make itself invisible, allowing it to attack Gridman with fireballs from any direction including above. Yuka quickly gave Gridman a paint program that would disable Stealgan's cloaking. With his power running out, Gridman blasted Stealgan's wings off and finally destroyed it with the Grid Beam.
Mecha Stealgan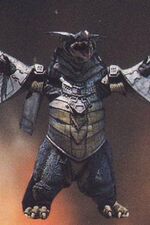 Stealgan's data was later upgraded into Mecha Stealgan (メカステルガン Meka Suterugan), Takeshi entered a CGI art contest, but was angered by the judge's commentary. Mecha Stealgan went into the judge's CG art company and stole the color from all the artwork and then began to steal the color from the city. Ippei had finished the King Jet, which was sent to aide Gridman along with Dina Fighter. By combining the laser attacks of both vehicles, Mecha Stealgan's invisibility was disabled and was destroyed by Gridman's Grid Beam.
Data
Stealgan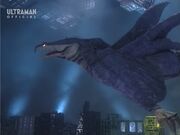 Stats
Height: 67 m
Weight: 58,000 t
Origin: Cyber Space
Powers and Abilities
Flight: Using his wings, Stealgan can fly.
Shock Waves: By flapping his wings, Stealgan can produce shock waves.
Invisibility: Stealgan can become invisible.
Fireball: Stealgan can fire blue fireballs.
Trivia
Gallery