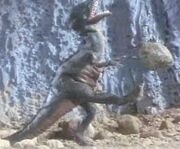 The Stegoceras was a species of dinosaur seen during the Dinosaur Exhibition Born Free
Stats
Height: TBA
Weight: TBA
Origin: Prehistoric Earth
History
The Stegoceras was hunted by poachers, and became quite aggressive. Due to it's aggressiveness, the Born Free crew had to kill it.
Trivia
Unlike it's normal counterpart, this stegoceras has rows of sharp teeth.
It's body resembles that of a theropod. Also, it is labeled as a Troodon, which was thought to have been synonymous with it.
Powers and Abilities
Bone Dome: Located on the top of it's head, Stegoceras has a helmet made of bone, perfect for ramming into enemies.
Ad blocker interference detected!
Wikia is a free-to-use site that makes money from advertising. We have a modified experience for viewers using ad blockers

Wikia is not accessible if you've made further modifications. Remove the custom ad blocker rule(s) and the page will load as expected.