Stegon

Home world:
Earth
First appearance:
Ultraman Jack episode 10 "Dinosaur Explosion Directive"
Latest appearance:
Redman
Height:
21 Meters
Weight:
23,000 tons
Category:
Ancient Kaiju
Affiliation:
Beryudora (Body Part)
Stegon (ステゴン Stegon) was a revived dinosaur skeleton from the seriesThe Return of Ultraman. He appeared in episode 10.
Subtitle: Fossil Monster (化石怪獣 Kaseki kaijū)
The Return of Ultraman
Edit
Powers/Weapons
Edit
Organic Acid: Stegon can spew acid from his mouth that can dissolve humans very quickly. However, it seems to have little effect on nonorganic structures like buildings.
Fire Extinguisher: Stegon can emit a steady stream of fire-extinguishing mist from his mouth. When an opponent gets too near, he can also use the mist as a blinding attack to the enemy
An ancient skeletal sauropod dinosaur, Stegon was in suspended animation beneath the ground of Japan. One day a construction crew managed to awaken it. After spewing small amount of acid on one of the workers Stegon arose from one of the hills. MAT was quick to respond to the scene, but their attacks did little beyond annoying Stegon. Goh turned into Ultraman Jack and began to tackle the skeletal sauropod. While try as the ancient reptile did Stegon was of little match for Jack in hand to hand combat. Before Jack could finish Stegon off some near by children were yelling out to him not to kill Stegon. Jack simply used his paralysis beam, lifted Stegon, and turned his body into a constellation of stars just like the original Ultraman did with Gavadon four years earlier. The children were happy and MAT then left.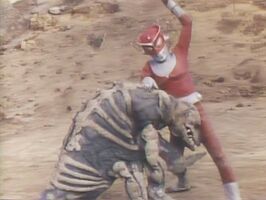 Stegon reappears in the series Redman.
Figure Release Information
Edit