Strength and Power (強さと力 Tsuyosa to Chikara?) is the 28th episode of Ultraman Cosmos.
Plot
Team EYES finds a monster that can emit poisonous gas acting strangely, and find out it has been infected by Chaos Header. Can they save it, and what kind of plan is Chaos Header working on now?
Casts
Suit actors
Modes
Monsters
DVD Release
Ultraman Cosmos Volume 6 features episodes 25-28.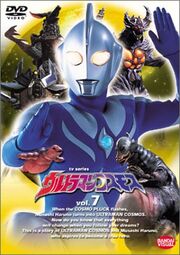 Ad blocker interference detected!
Wikia is a free-to-use site that makes money from advertising. We have a modified experience for viewers using ad blockers

Wikia is not accessible if you've made further modifications. Remove the custom ad blocker rule(s) and the page will load as expected.