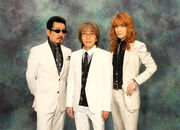 THE ALFEE is a popular Japanese musical group composed of Masaru Sakurai (桜井 賢 Sakurai Masaru) (voice, bass guitar, born January 20, 1955), Kōnosuke Sakazaki (坂崎 幸之助 Sakazaki Kōnosuke) (voice, acoustic guitar, percussion, born April 15, 1954) and Toshihiko Takamizawa (高見沢 俊彦 Takamizawa Toshihiko) (voice, electric guitar, born April 17, 1954). The group was formed with four members in 1973 after they met on the campus of Meiji Gakuin University. The fourth member, Yasuo Miyake (三宅 康夫 Miyake Yasuo), left the band shortly after it formed (sometime between 1975 and 1979 based on the album covers and information on The Alfee's official site).
They released their debut single on August 25, 1974. In 2003, HMV Records Japan rated them No. 92 in their "Top 100 Japanese pops Artists".
THE ALFEE also sung the Ultraman Ginga S opening song title, "Eiyuu no Uta".
Ad blocker interference detected!
Wikia is a free-to-use site that makes money from advertising. We have a modified experience for viewers using ad blockers

Wikia is not accessible if you've made further modifications. Remove the custom ad blocker rule(s) and the page will load as expected.