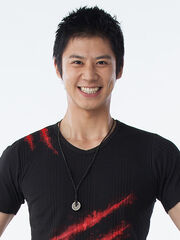 Takahiro Katou (加藤貴宏, Katō Takahiro, Takahiro Katou?) is an actor who played as one of the characters in Ultraman Ginga S as Gouki Matsumoto . He was born in August 17, 1988 (26 Years old). He before played as one of the character in Shougeki Gouraigan. 
Movies
Halcyon Skies (2012)
Forgotten Dreaks (2011)
Ad blocker interference detected!
Wikia is a free-to-use site that makes money from advertising. We have a modified experience for viewers using ad blockers

Wikia is not accessible if you've made further modifications. Remove the custom ad blocker rule(s) and the page will load as expected.