The Evil Glove. Be Careful What You Throw Out! (魔のグローブ 落し物にご用心!! Ma no gurōbu otoshimono ni goyōshin!!?) is the 47th episode of Ultraman 80.
Summary
TBA
Synopsis
TBA
Cast
TBA
Ultras
Monsters
Glovusk (First and only appearance)
DVD Release
Ultraman 80 Volume 12 features episodes 45-47.
The episode was premiered in the United States on TOKU in April 27, 2017.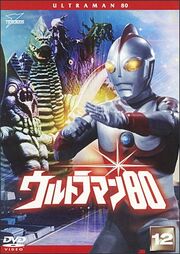 Ad blocker interference detected!
Wikia is a free-to-use site that makes money from advertising. We have a modified experience for viewers using ad blockers

Wikia is not accessible if you've made further modifications. Remove the custom ad blocker rule(s) and the page will load as expected.