The Female Warrior of Ultra (ウルトラの星から飛んで来た女戦士 Urutora no hoshi kara tonde kita on'na senshi?) is the 43rd episode of Ultraman 80. This also features the debut of Ryoko Hoshi (Princess Yullian Human Form), the second female Ultra and the last appearance of Emi Johno.
Summary
Pending
Synopsis
TBA
Cast
TBA
Ultras
Monsters/Aliens
DVD Release
Ultraman 80 Volume 11 features episodes 41-44.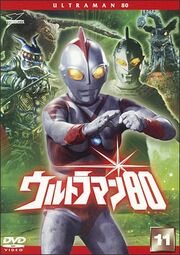 Ad blocker interference detected!
Wikia is a free-to-use site that makes money from advertising. We have a modified experience for viewers using ad blockers

Wikia is not accessible if you've made further modifications. Remove the custom ad blocker rule(s) and the page will load as expected.