The Fifth Crewman (五人目のクルー Goninme no Kurū?) is the 2nd episode of Ultra Galaxy Mega Monster Battle.
Plot
Great Monster Battle File
Oki: Great Monster Battle File! This is today's monster! Ancient Bird Litra. This is his final attack. The Litra who normally used his final attack was able to recover thanks to the mysterious Rei. But what the hell actually happened?
Kumano: I hear the item is called Battle Nizer.
Oki: Why do you know that?
Kumano: I've gotten special info from the makers!
Oki: Why don't I get any?
Kumano: Well, see you next time!
Oki: Until next time!
Cast
Suit actors
Monsters
Ordinary Monsters
Reionyx Monsters
DVD Release
Ultra Galaxy Mega Monster Battle Volume 2 features episodes 2-3.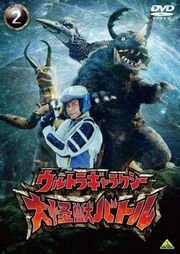 Ad blocker interference detected!
Wikia is a free-to-use site that makes money from advertising. We have a modified experience for viewers using ad blockers

Wikia is not accessible if you've made further modifications. Remove the custom ad blocker rule(s) and the page will load as expected.