The Imitated Man
The Final Chapters, Episode 5

Air date
12/05/1999
Written by
TBA
Screenplay by
Migita Masaman
Hiroyasuo Aki (Draft)
Directed by
Toshiyuki Takano
Special skill director
Hiromasa Mitsutome
Viewer Ratings
None
Episode Guide
previous
Consequences of a Promise
next
I Am an Earthling
The Imitated Man (模造された男 Mozō sa reta otoko?) is one of the The Final Chapter episodes of Heisei Ultra Seven.
Plot
TBA
Casts
TBA
Ultras
Robots
DVD Release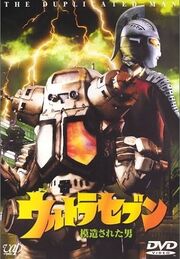 Trivia
This Episode was later featured in episode 92 of Ultraman Retsuden: Revive! King Joe! Ultraseven's Decisive battle!.
Ad blocker interference detected!
Wikia is a free-to-use site that makes money from advertising. We have a modified experience for viewers using ad blockers

Wikia is not accessible if you've made further modifications. Remove the custom ad blocker rule(s) and the page will load as expected.