The Lawless Monster Planet
Ultra Galaxy Mega Monster Battle, Episode 1

Air date
12/01/2007
Written by
TBA
Directed by
TBA
Episode Guide
previous
None
next
The Fifth Crewman
The Lawless Monster Planet (怪獣無法惑星 Kaijū Muhō Wakusei?) is the 1st episode of Ultra Galaxy Mega Monster Battle.
Plot
Great Monster Battle File
Oki: Great Monster Battle File! Today's monster is this one! The Ancient Monster Gomora. He has destructive power thanks to his giant feet and his long tail. The point we show you today is the beam that he shoots from his horns.
Kumano: Really?
Oki: Monsters can be complicated. Don't worry, from today onwards I'll let you accompany me in the world of monsters, Kumano.
Kumano: Me?!
Oki: See you next time!
Cast
Suit actors
Monsters
Reionyx Monsters
DVD Release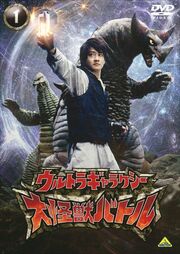 Ad blocker interference detected!
Wikia is a free-to-use site that makes money from advertising. We have a modified experience for viewers using ad blockers

Wikia is not accessible if you've made further modifications. Remove the custom ad blocker rule(s) and the page will load as expected.