The Pendragon Doesn't Rise to the Surface! (ペンドラゴン浮上せず! Pendoragon Fujōsezu!?) is the 9th episode of Ultra Galaxy Mega Monster Battle.
Plot
Mega Monster Battle File
Oki: Mega Monster Battle File! Today's monster is this one! Giant Fish Monster Zoa Muruchi. They say that the monster from the planet Mates has improved movement under water. Today it fought Eleking underwater, but it seems like it can fight above water as well.
Kumano: Just like an amphibian?
Oki: Yes.
Kumano: Knowing to distinguish a Muruchi from a Zoa Muruchi is important.
Oki: I'd expect no less from a magician. That's a pretty good thought.
Kumano: See ya!
Oki: Till next time!
Cast
Monsters
Ordinary Monsters
Reionyx Monsters
DVD Release
Ultra Galaxy Mega Monster Battle Volume 5 Features episodes 8-9.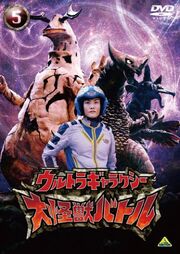 Ad blocker interference detected!
Wikia is a free-to-use site that makes money from advertising. We have a modified experience for viewers using ad blockers

Wikia is not accessible if you've made further modifications. Remove the custom ad blocker rule(s) and the page will load as expected.