The Smile of Destruction: Part 1 (滅びの微笑(前編) Horobi no Bishō (Zenpen)?) is the 35th episode of Ultraman Dyna.
Plot
TBA
Cast
Types
DVD Release
Ultraman Dyna Volume 9 features Episodes 33-36.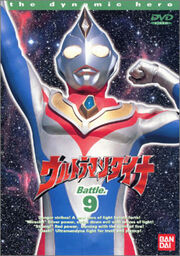 Trivia
This episode, along with the next one, was later featured in Ultraman Retsuden Episode 26: Osaka Great Decisive Battle! Defeat Neo Geomos!!
Ad blocker interference detected!
Wikia is a free-to-use site that makes money from advertising. We have a modified experience for viewers using ad blockers

Wikia is not accessible if you've made further modifications. Remove the custom ad blocker rule(s) and the page will load as expected.