The Snow of Venus (金星の雪 Kinsei no Yuki?) is the 44th episode of Ultraman Dyna.
Plot
The episode started of with a project by TPC to rehabilitate Venus for humans to expand as a new frontier.A machine developed by a TPC scientist with a goal that one day Venus will be bustling with life.Unfortunately,he lost contact with his machine and the Super GUTS had to deploy Kolakerf NF-3000 to investigate.When Asukawas sent by GUTS Eagle Alpha,he discovers that the machine had been destroyed.It was then known that this was caused by the work of Sphire.They merged with they destroyed machine and rose as Graikis
Casts
TBA
Types
DVD Release
Ultraman Dyna Volume 11 features Episodes 41-44.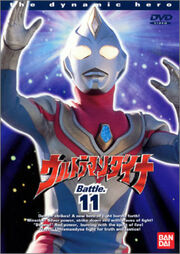 Ad blocker interference detected!
Wikia is a free-to-use site that makes money from advertising. We have a modified experience for viewers using ad blockers

Wikia is not accessible if you've made further modifications. Remove the custom ad blocker rule(s) and the page will load as expected.