The Time-Transcending Smile
Ultraman Tiga, Episode 36

Air date
May 10,1997
Screenplay by
Masakazu Migita
Keiichi Hasegawa
Directed by
Teruyoshi Ishii
Special skill director
Shinichi Ooka
Viewer Ratings
7.0%
Episode Guide
previous
The Sleeping Maiden
next
Flower
The Time-Transcending Smile (時空をこえた微笑 Toki o Koeta Hohoemi?) is the 36th episode of Ultraman Tiga.
Plot
TBA

Cast
Main Cast
Guest Actors
TBA
Suit Actors
DVD Release
Ultraman Tiga Volume 9 features episodes 33-36.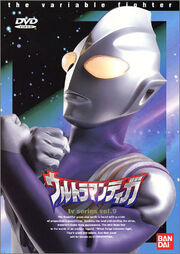 Trivia
This episode was later featured in Ultraman Retsuden episode 47: Fight Tiga! Super Power Monster Goldras!!
Ad blocker interference detected!
Wikia is a free-to-use site that makes money from advertising. We have a modified experience for viewers using ad blockers

Wikia is not accessible if you've made further modifications. Remove the custom ad blocker rule(s) and the page will load as expected.