The Trap in Belargo City (ベラルゴシティの罠 Berarugo Shiti no Wana?) is the 5th episode of Ultra Galaxy Mega Monster Battle.
Plot
Great Monster Battle File
Oki: Great Monster Battle File! Today's monster is this one! The underground monster, Fire Golza. He attacks by shooting a powerful Super Shockwave beam from his forehead. It seems Golza became like this after devouring magma energy.
Kumano: He's much bigger, huh?
Oki: If you want I can explain the difference between Golza and Fire Golza simply? It will only take 5 hours or so.
Kumano: Simply but still it would take 5 hours?
Oki: Yeah!
Oki and Kumano: See you!
Casts
Suit actors
Monsters
Ordinary Monsters
Reionyx Monsters
DVD Release
Ultra Galaxy Mega Monster Battle Volume 3 features episodes 4-5.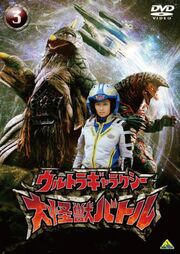 Ad blocker interference detected!
Wikia is a free-to-use site that makes money from advertising. We have a modified experience for viewers using ad blockers

Wikia is not accessible if you've made further modifications. Remove the custom ad blocker rule(s) and the page will load as expected.