The Underwater King (水中の王者 Suichū no Ōja?) is the 8th episode of Ultra Galaxy Mega Monster Battle.
Plot
Mega Monster Battle File
Oki: Mega Monster Battle Files. Today's monster is this one. Space Monster Eleking. His most frequent attacks are a moon crescent shaped lightning shot and constraining the enemy with his tail.
Kumano: This is a very interesting monster for engineers.
Oki: Do you want to study this monster today?
Kumano: I'd love to.
Oki: I'll call Rei!
Kumano: Hey, I was joking!
Oki and Kumano: See ya!
Cast
Monsters
Ordinary Monsters
Reionyx Monsters
DVD Release
Ultra Galaxy Mega Monster Battle Volume 5 Features episodes 8-9.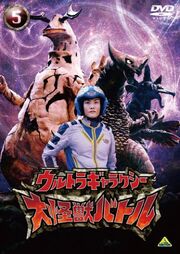 Trivia
Originally Gubila was supposed to be Rei's third monster in the series Ultra Galaxy Mega Monster Battle. However, he was replaced by Eleking.
Ad blocker interference detected!
Wikia is a free-to-use site that makes money from advertising. We have a modified experience for viewers using ad blockers

Wikia is not accessible if you've made further modifications. Remove the custom ad blocker rule(s) and the page will load as expected.