Thoughts of Friends is the 31st episode of Ultraman Mebius.
Summary
TBA
Synopsis
GUYS return to base after the defeat of Imperalizer but Miari collapses due to exhaustion. He then wakes up heading to the main room only to think about how he was able to succed Burning Brave Mode. He soon walks into the room finding everyone setting up for Captain Sakomizu birthday. Ryu asks Miari to find him a birthday gift requesting beans. Later that night, Shingo walks in to find everyone waiting for him with his cake, and Miari hands him his gift except he gives him actual beans and not coffee beans. Despite that they continue to celebrate. The next morning GUYs is alerted to find that 5 defesive satalites destroyed by UFO's. Not only that but, a couple of those saucers position themselves into major cities of the world but, the main saucer of attention attacks the a Japanese city.
Soon it flies high into the sky and crash lands back to the ground as the new flying saucer monster Roberuga. GUYS soon deployes and are shocked to discover that when they translated his voice he says "Obliterate Ultraman Mebius". Miari then transforms into Ultraman Mebius but, soon finds it hard to fight with Roberuga's arsenal of diffrent weapons. Though gaining the upper hand he was soon put back into his place when Fire Windom was summoned into battle barraged with attacks from both marqutte monster and GUYS fire power. Miari soon see's this and realizes then reason for gaining his new mode was from the belief in his comrades and becomes Burning Brave Mode again. Gaining the upper hand he destroys the saucer with Mebium Burst. He then is soon greeted by his friends after the battle is finished and the other saucers retreat.
Cast
To be added.
Ultras
Kaiju
DVD Release
Ultraman Mebius Volume 8 features episodes 29-32.
Trivia
This episode was later featured in New Ultraman Retsuden Episode 10: Rise, Mebius! Feelings of Comrades.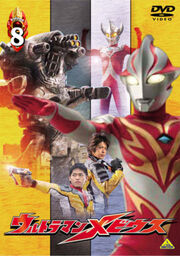 Ad blocker interference detected!
Wikia is a free-to-use site that makes money from advertising. We have a modified experience for viewers using ad blockers

Wikia is not accessible if you've made further modifications. Remove the custom ad blocker rule(s) and the page will load as expected.