This may not be the page you are looking for. For other uses of the word Triceratops, see Triceratops.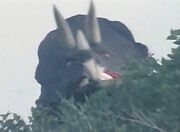 The Triceratops (トリケラトプス Torikeratopusu) appeared multiple times in the Dinosaur Sentai Koseidon series, often showing up to help the red warrior to fight against the alien threats.
Subtitle: TBA
Stats
Height: Varies
Weight: Varies
Origin: Prehistoric Earth
History
Dinosaur Sentai Koseidon
TBA
Trivia
Powers and Abilities
Horns: Located on it's face, the triceratops species have three massive horns.
See Also