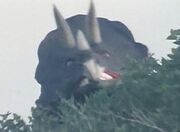 The Triceratops (トリケラトプス Torikeratopusu?) appeared multiple times in the Dinosaur Sentai Koseidon series, often showing up to help the red warrior to fight against the alien threats.
Subtitle: TBA
Stats
Height: Varies
Weight: Varies
Origin: Prehistoric Earth
History
Dinosaur Sentai Koseidon
TBA
Trivia
Powers and Abilities
Horns: Located on it's face, the triceratops species have three massive horns.
See Also
Ad blocker interference detected!
Wikia is a free-to-use site that makes money from advertising. We have a modified experience for viewers using ad blockers

Wikia is not accessible if you've made further modifications. Remove the custom ad blocker rule(s) and the page will load as expected.