Two From the Deep Sea
Ultraman Mebius, Episode 6

Air date
05/13/2006
Screenplay by
Hideyuki Kawakami
Directed by
Toshiyuki Takano
Special skill director
Toshiyuki Takano
Viewer Ratings
4.8%
Episode Guide
previous
Reverse Shot
next
Fanton's Lost Item
Two From the Deep Sea (深海の二人, Shinkai no Futari, Two From the Deep Sea?) is the sixth episode of Ultraman Mebius.
Summary
The mysterious woman wakens the egg of Twin Tail under the ocean. A mysterious figure in blue, Tsurugi, arrives.
Synopsis
The ever plotting Bogar (in human disguise) used her energy blasts to heat an egg of a prehistoric monster Twin Tail located on the ocean floor. Taking notice Kazuya Serizawa used his Knight Brace and attacked Bogar but, fled away soon after. GUYS is notified of a strange heat source and goes underwater to investigate. They soon discover the egg which was original thought to be a rock until Bogar used one last blast to hatch Twin Tail. The creature was quick to attack GUYS, noted that he is aquatic creature and could have one against Gudon 34 years ago if thats where they fought. Miari then transformed into Ultraman Mebius, Twin Tail gained the upper hand as he ramened into him multiple times using his body. The team figured out that the two blue "eye balls" near the top were sensory organs and fired at them. Weakened the monster was finished of by the Mebium Shoot, but shortly afterwards Bogar appared in its true form and fought Mebius. Just then the "blue giant" appeared and fought of Bogar until she retreated. The blue giant the went back to the surface in a ball of light.
Cast
DVD Release
Ultraman Mebius Volume 2 features episodes 5-8.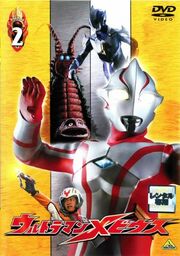 Ad blocker interference detected!
Wikia is a free-to-use site that makes money from advertising. We have a modified experience for viewers using ad blockers

Wikia is not accessible if you've made further modifications. Remove the custom ad blocker rule(s) and the page will load as expected.