The
Tylosaurs
(チロサウルス
Tirosaurusu
?
) were living fossils found in the series: Great Dinosaur War Izenborg.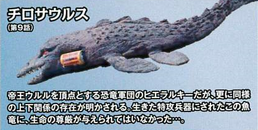 Stats
Length: 8 m (est.)
Weight: N/A
Origin: Earth
History
A living fossil caught the eye of both the D-Force and the tyrant king, Ururu. They where killed in the battle, sadly, between the Super Izen I and Parasa.
Trivia
In one dub of the show, they are refered to as crocodiles.
Tylosaurus is a type of mosasaur, which were aquatic lizards that lived in the Cretaceous.
Powers and Abilities
None.
Ad blocker interference detected!
Wikia is a free-to-use site that makes money from advertising. We have a modified experience for viewers using ad blockers

Wikia is not accessible if you've made further modifications. Remove the custom ad blocker rule(s) and the page will load as expected.