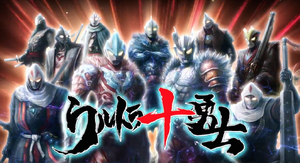 '
Ultra 10 Braves
(ウルトラ十勇士
urutora jūyūshi korabo
?
) is a crossover with a sengoku-era card strategy game, Sengokuenbu, featuring ten Ultramen.
[1]
Plot
Important ultras have been reimagined as new heroes.
The 10 Ultra Warriors live in the troubled times of the Warring Era. The world is locked in the conflict between Toyotomi and Tokugawa
Tokugawa hires the aid of aliens that are present in the world to dominate Japan with their power.
To defend the people, Toyotomi, with Yukimura Sanada, through a messenger of light, is able to obtain the aid of the 10 Ultra Warriors
References
Ad blocker interference detected!
Wikia is a free-to-use site that makes money from advertising. We have a modified experience for viewers using ad blockers

Wikia is not accessible if you've made further modifications. Remove the custom ad blocker rule(s) and the page will load as expected.