Ultra Battlers is a trading figure line released by Bandai Asia. The toyline consists of collectible trading figures (molded similarily to keshigomu (eraser) figurines, which can be used as battle toys. Each of their respective trading cards includes a scannable QR code which is used to unlock video clips from the toyline's website.
The toyline is released exclusively in Asia countries (Indonesia, Malaysia) outside Japan.
How to play
The figures can be played in two ways (1 on 1, Battle Royale), but with the same play pattern: knocking the boxes to make the figures "move". The last figure standing will be declared as a winner if any of the opponents are either fallen down from the arena, or toppled on it.
In the Sumo Battle play set, the players must control the figures (With the gameplay being the same as the first default play pattern) with the included stages for the Battle Stage.
As an extra playability, the players can use the Stages for 2 different play styles:
Balancing Game: The player must slowly add the figures onto the Wild Stage. If one falls down from the stage, the player is disqualifed.  
Stacking Game: The player must stack the figures onto the inner circle of the Regular Stage (must be flipped 180 degrees first). The player will be disqualified if a figures falls off from the stacked tower
In the Shooter Battle Play Set, the player must use the included Catapult and shoot the Ultraman figurine against the monsters (which was standing on the Building accessories).
Lineup
Sumo Battle Play Set
Includes:

Ultraman Ginga, Ultraman Zero, Ultraman Belial figurine (Clear Blue)
Tyrant figurine (yellow)
2 Battle Sheets
Battle Base
2 Battle Stages
4 Collectible Cards 
Shooter Battle Play Set
Includes:

Ultraman X Figurine (clear blue)
Demaaga, Rudian, Bemstar figurine (yellow)
Shooter
2 Height adjustment pieces
5 Building accessories
Map Sheet
4 Collectible Cards
Ultra Battlers
The inivudually blind-packed boxes includes 1 Ultra and their respective Monsters/Aliens figurine. Each of them comes with a respective Collectible card.
Vol.1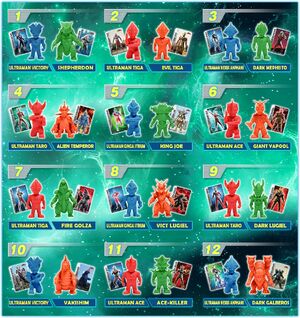 Ultraman X & Demaaga
Ultraman Zero & Ultraman Belial
Ultraman X & Rudian
Ultraman & Alien Baltan
Ultraman Ginga & Thunder Darambia
Ultraman Mebius & Bemular
Ultraman Zero & Bemstar
Ultraman & Zetton
Ultraman Mebius & Alien Nackle
Ultraman Ginga & Tyrant
Ultraman X & Gargorgon
Glenfire & Mirror Knight
Vol.2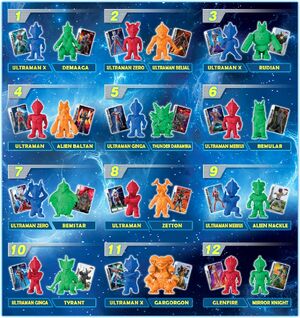 Ultraman Victory & Shepherdon
Ultraman Tiga & Evil Tiga
Ultraman Nexus Anphans & Dark Mephisto
Ultraman Taro & Alien Temperor
Ultraman Ginga Strium & King Joe
Ultraman Ace & Giant Yapool
Ultraman Tiga & Fire Golza
Ultraman Ginga Strium & Vict Lugiel
Ultraman Taro & Dark Lugiel
Ultraman Victory & Vakishim
Ultraman Ace & Ace Killer
Ultraman Nexus Anphans & Dark Galberos
Other Links