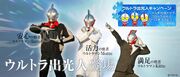 Ultra Idemitsujin (ウルトラ出光人 Urutora Idemitsujin?) are characters based on the Ultraman franchise that appear on television commercials for the oil company Idemitsu Kosan. The characters were created by Tsuburaya Productions.
They are always seen wearing external clothing, but figures released for the trio reveal they also wear typical Ultra gear.
Idemitsu Ultras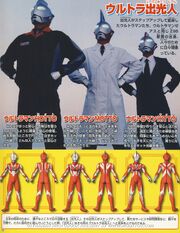 Ultraman Hotto, Messenger of Relief

The safe messenger who does his best so that everybody may do "Hotto relief" and can live every day. His specialty is "Hotto ray".

Ultraman Motto, Messenger of vitality

He invented "Adamanteto Attack" in the second chapter after the research in which he reached to an extreme of difficulty. His specialty is "Motto ray".

Ultraman Kitto, Messenger of satisfaction

His specialty is "Kitto ray".
External links
Ad blocker interference detected!
Wikia is a free-to-use site that makes money from advertising. We have a modified experience for viewers using ad blockers

Wikia is not accessible if you've made further modifications. Remove the custom ad blocker rule(s) and the page will load as expected.