Ultra Monster Series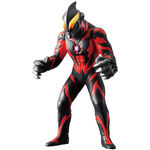 Ultraman Belial (Ultra Monster Series 2009 Movie, 2009)

Release Date: December 12, 2009
Price: 800 yen
JAN/ISBN: 4543112589859
Materials: PVC
The first Ultra Monster Series Ultraman Belial figure is produced by Bandai, and sports 3 points of Articulation. He also comes with a limited edition Mega Monster Battle card of himself, which is compatible to the Mega Monster Battle: RR arcade game.
Ultraman Belial Giga Battle Nizer ver. (Ultra Monster Series, 2010)

Release Date: August 7, 2010
ID Number: EX
Price: 900 yen
JAN/ISBN: 4543112624611
Materials: PVC, ABS
Accessories: Giga Battle Nizer
A retool of the first UMS Belial figure, this toy includes a new pair of arms: a wielding right arm, and a raised left arm. The toy includes it's trademark Giga Battle Nizer accessory.
Ultraman Belial - Early Style (Ultra Monster Series, 2011)

Release Date: September 10, 2011
Price: 800 yen
ID Number: EX
JAN/ISBN: 4543112702050
Materials: PVC
This UMS figure of Ultraman Belial is based on his original form before he was corrupted by Rayblood.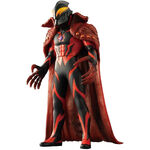 Kaiser Belial (Ultra Monster Series, 2010)

Release date: November 13, 2010
Price: 1080 yen
ID Number: EX
JAN/ISBN: 4543112649782
Materials: PVC
Accessories: Mantle
Kaiser Belial is an all new mold, with the toy's stance is changed into a straight standing pose instead of his usual hunchbacked pose, and he comes with a detailed scar on his left eye. He also includes a removable mantle shown in the movie, and a card for the Mega Monster Battle arcade game.
Arch Belial (2010)

Release date: December 11, 2010
Price: 3780 yen
ID Number: EX
JAN/ISBN: 4543112649805
Materials: PVC
Ultra Monster Series Arch Belial is one of the massive Ultra Monster Series figure ever released on the toyline. Unfortunately, due to standing on the same size as the standard Ultra Hero/Monster Series figures, Arch Belial is not scaled with the rest of them. Unless you want to find an Ultraman figure with the right size to scale with this beast.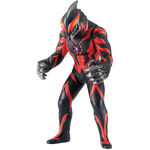 Ultraman Belial (2012)

Release date: July 14, 2012
Price: 800 yen
ID Number: 18
JAN/ISBN: 454311274146
Materials: PVC
In 2012, the original UHS Ultraman Belial figure saw re-release for the 2012 Ultra Monster Series line. the only changes in the figure is the orange-y eyes and sadly, slightly omitted paint details on the back.
Kaiser Darkness (2012)

Release date: February 16, 2013
Price: 800 yen
ID Number: EX
JAN/ISBN: 4543112778017
Materials: PVC
An all new mold (not a retool of Armored Darkness) based on Belial's armored appearance in Ultra Zero Fight
Ultra City Series
Pending.
Ultra-Act
Pending.
Ultra Monster 500/Series
Pending.
Ultra Big Sofubi
Ultraman Belial (2017)

Release Date: January 28, 2017
Price: 2160 yen
JAN/ISBN: 4549660116707
Materials: PVC
Released as part of the Ultra Big Sofubi lineup, this Ultraman Belial figure stands 18cm tall. Unlike some UBS figures, Ultraman Belial features minimum detail omissions on his back. 
In Japan, he was released without a box and comes with a tag. In Asia, he was packed in a windowed box.
Ultraman Belial (Ultraman Festival 2017 exclusive, 2017)

Release Date: July 21, 2017 (1st cour), August 9, 2017 (2nd cour)
Price: 2160 yen
Materials: PVC
This Ultraman Festival 2017 exclusive version of Ultra Big Sofubi Ultraman Belial is a redeco of the figure above, molded in semi-transparent navy blue, and features metallic red paint apps on the details. His eyes feature a lighter gold paint.
Others
Bandai has released Ultraman Belial in their Ultra Monster Series, and Arch Belial's aswell. It's released together in 2010 along with a Beryudora figure. Bandai has also release the good Ultraman Belial form. The evil Ultraman Belial figure comes accompained with the Giga Battlenizer. Bandai is also releasing their new figure series called "Super Dramatic Sound", where a figure of Belial was also released.
Ad blocker interference detected!
Wikia is a free-to-use site that makes money from advertising. We have a modified experience for viewers using ad blockers

Wikia is not accessible if you've made further modifications. Remove the custom ad blocker rule(s) and the page will load as expected.